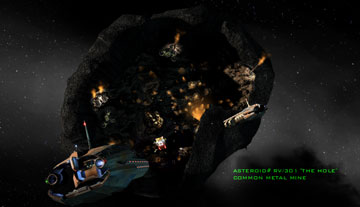 You don't need to read the whole of this guide before pitting your wits against the cutthroats of Hoffer's Wake, but you are likely to live longer if you do.
At least read this page before powering up your space craft and heading out in to the big black - and it's probably a good idea to familiarise yourself with the game's characters and controls before jumping into the cockpit.
Essentially, there are three ways of playing the EDGE OF CHAOS demo. From the main menu you can select:
Start New Game

Training

Instant Action

Training
Here your mentor Jefferson Clay will put you through a training course of rings, flying in competition with a training drone.
Jefferson has been around an awfully long time and knows just about all there is to know about piloting your ship, so be sure to learn all you can. You are going to be putting those skills to good use.
We recommend that you use this option first before trying your hand at Start New Game or Instant Action.

Start New Game
Use Start New Game to have the full INDEPENDENCE WAR experience. At the beginning of the game you will watch your alter-ego Cal Johnston and his band of fellow convicts escape prison, in a 5 minute movie.

Instant Action
Use Instant Action for a quick fix of space combat. The enemies come thick and fast. And they get harder and better equipped the longer you survive.
This special demo version of Instant Action has a three minute time limit.

Quick Start Combat Guide
Flying is quite simple. Moving the joystick back and forth will raise and lower the spacecraft's nose. Pushing left and right turns the aircraft to the left or right. In the centre of the screen is a targeting Reticle (the green circle). To target a spacecraft position your Reticle over it and hit the Joystick button #2. Pull the trigger to fire at your target.
On the left hand side of the Reticle is the current speed of your spacecraft. When you up the throttle (refer to the separate Control Guide or use the throttle on the joystick), the three figures on the Reticle change to show the speed that you want to travel at.
Hit enter to select gun weapons and backspace to select missile weapons.