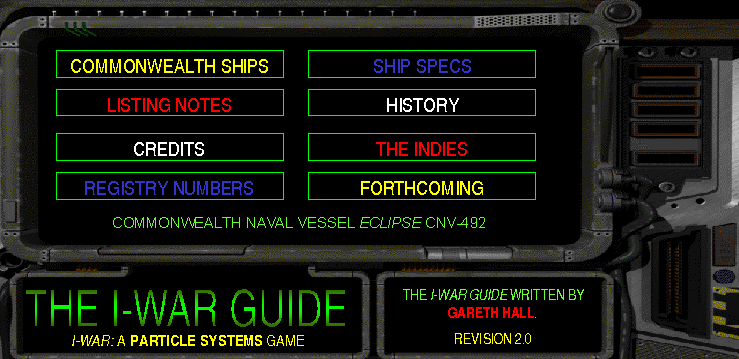 Look out for guide revisions at The Back Yard of the Universe.
The official I-War/Independence War site is at: http://www.independencewar.com.
The official Particle Systems site is: http://www.particle-systems.com.
---
COPYRIGHT NOTICE & OTHER LEGALITIES
This guide has been unofficially produced without the permission nor consent of the creators and copyright holders of I-War (or Independence War, as it's known in the US), Particle Systems. All pictures used in this guide are copyright Particle Systems, and have been reproduced with permission. The text within this guide was written by and is a copyright of Gareth Hall (e-mail: GarethHall@compuserve.com). The guide was created with the help of Microsoft Excel, Microsoft Access, Microsoft PowerPoint, Claris Home Page 2.0 and Netscape Composer.